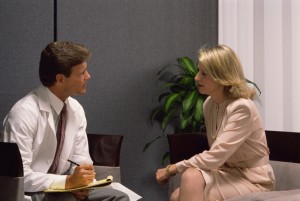 After a number of traded phone messages and emails, a psychologist we have been trying to talk to about a mutual patient, sent an email: "Unfortunately, our schedules are a complete mis-match."
Earlier this week we finally managed to talk to a naturopathic physician about another mutual patient, after three weeks of traded phone messages with her secretary.
Good communication with other health professionals is a cornerstone of the integrated treatment model that we believe in, but with all of us so busy how can we actually make that happen?
This post is intended to answer some frequent questions about our practice and how we work collaboratively with other health professionals.
If you're a health professional, we encourage you to read the page entitled "beginning a consultation" because that covers fair amount of information about the practice and how we work.
If you have the time you might also want to look at the video for patients that talks about our model of communication and collaboration with our patients.
Talking to Dr. Forster
Doctor Forster's schedule tends to be fully booked during weekdays, a week to two weeks in advance. If the only time that you can talk to him is during the regular work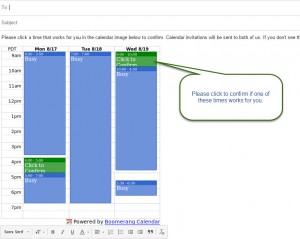 week that appointment will need to be made a couple of weeks in advance and he will need to set aside a full hour for that conversation. His schedule of appointments is on the hour, one patient per hour from 8 or 9 AM to 5 PM.
On the other hand, he is often able to talk by phone, with a few days notice, early in the morning (before 8 am) and at 5:15 PM many evenings. If those times work for you in general, he can send you several appointment options in an email.
You will get an email from him that looks something like this (see picture to the right). Please choose from one of the appointments by clicking on the preferred time. Doing that allows real time schedule updating and will prevent the frustrating experience of finally choosing a time that works only to learn that he had to book a patient phone call in the same time slot.
Online Information Sharing
Since finding a time for a phone conversation is complicated, it's something that's best done in frequently, when there's a clear need for discussion. On the other hand regular communication is important. For that reason, there are several other ways that we can communicate that might be easier.
Virtru
We use Virtru to send secure, encrypted emails to patients and other health care providers. It was reviewed in the New York Times in the summer of 2014 and has become a popular system for sending encrypted email because it is both safe and easy to setup. You will need a Virtru account and you will need to install a plug in for your browser (if you read your emails in a browser) or for Outlook (if that is how you read emails). For more information you can click on this link.
Email
Since email is inherently unsafe, we prefer not to use it, but sometimes we find that it is necessary to do so. If we have to, we will send emails that don't include a patient's name (just first name and first initial of last name) and will not include any readily identifiable personal information in the emails.
Shared Electronic Health Records
Our electronic record system allows us to add additional clinicians and share only the records of one patient with that clinician. This allows you to see the notes from each new session and allows you to see exactly what we are thinking. Some of the clinicians we work with put their notes into that system, which is the best way of having real time two way communication.
If you want to have access to our EHR please let us know.
As an alternative, you might be comfortable posting your notes in a shared Box.com or Dropbox folder. We prefer Box because it seems slightly more secure, but either option works. Whatever you do it should be something that is simple to do automatically. We have never figured out how to go through our schedule for the week and see who has an appointment and send out emails to every clinician associated with every patient in order to get an update. If records are not shared automatically what usually happens is that we realize we wish we knew what happened in your last session only during the meeting with the patient, and often we won't be seeing the patient again for many weeks…
Shared Mood Charts
We ask many of our patients to fill out daily mood charts. There are many options that we have used (see discussion on our companion website, Moodsurfing.com) but the most common one is a simple Google Spreadsheet which we can easily share with you. We would love to do that. If we both use the same information it makes it easier for our patients. For more about the mood chart process please follow this link.