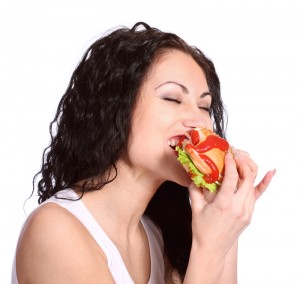 This past week the FDA approved the first drug for Binge-Eating Disorder.
"Binge eating can cause serious health problems and difficulties with work, home, and social life," said FDA Division of Psychiatry Products Director Mitchell Mathis, M.D. "The approval of Vyvanse provides physicians and
patients with an effective option to help curb episodes of binge eating."
The drug was reviewed under the FDA's priority review program, which expedites the review process of drugs that are intended to treated serious conditions for which there are limited therapy options available.
The efficacy of Vyvanse was shown in two 12-week randomized, double-blind, placebo-controlled studies in adults aged 18 to 55 years (Study 1: N=374, Study 2: N=350) with moderate to severe Binge Eating Disorder (at least 3 binge days per week). The study looked at the change from baseline to week 12 in the number of binge days per week.
In study 1, Vyvanse reduced the mean number of binge days per week from 4.79 at baseline to 0.78 at study endpoint (compared to a reduction from 4.60 to 2.22 in those patients who got placebo). Similar results were seen in study 2.
Vyvanse is a medication approved in 2007 for attention-deficit/hyperactivity disorder (ADHD).  It is a stimulant pro-drug (lisedexamfetamine) – in other words it is converted by the body to dextroamphetamine (Dexedrine and others), which is the active form of the drug. Its principle advantage over dextroamphetamine is that it is less likely to be abused because the onset of action is gradual since it takes the body two or three hours to convert lisdexamfetamine to dextroamphetamine.
Presumably dextroamphetamine would be similarly effective.
Most serious side effects reported by individuals taking Vyvanse included dry mouth, insomnia, increased heart rate, and anxiety.
Vyvanse's Medication Guide notes the risks associated with the medication's use, such as increased risk of psychotic or manic symptoms, even in individuals without a prior history of psychotic illness. The FDA emphasized that Vyvanse is not approved for, or recommended for, weight loss.
Since Binge Eating Disorder is a chronic disorder, one important question is whether the medicine is effective in the long run. Another issue is the long term safety of the medication. All stimulants are associated with small increases in heart rate and blood pressure. Some other medications with similar actions have been associated with small increases in the risk of stroke and cardiac disorders.
Vyvanse is marketed by Shire U.S. Inc.
View the FDA press announcement
To read more about eating disorders and pharmacotherapies used to treat eating disorders, see the *Psychiatric News* article "Expert Hopeful About Future of Treatment for Eating Disorders."