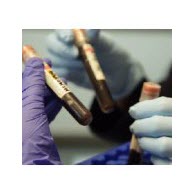 We ran across a recent article that promised a "blood test for depression" and thought how strange it was that this article was being republished in the Journal of Clinical Psychiatry.  After all we wrote about a blood test for depression based on an article that appeared in translational psychiatry just a few months ago.
Imagine my surprise when I opened the article and began to read it and realized that this test was not based on mRNA assays that allow us to notice changes in gene expression using a blood sample (a process that comes about as close to matching as I can imagine). Instead this essay is based on more conventional blood tests:
Serum levels of the 9 biomarkers in the MDDScore panel (α1 antitrypsin [A1AT], apolipoprotein C3 [ApoC3], brain-derived neurotrophic factor [BDNF], cortisol, epidermal growth factor [EGF], myeloperoxidase [MPO], prolactin [PRL], resistin [RETN], and soluble tumor necrosis factor α receptor type II [TNFR2]) were measured in this study and this information when combined with age and sex was 91% accurate in identifying people with major depression.
That's not as good as the results from the other study and, as a number of authors commented, it's not clear what a blood test with this degree of accuracy contributes to diagnosis.
In our experience the best way of assessing depression is using a standardized instrument such as the Inventory of Depressive Symptomatology which is available for free online.
Obviously this article precedes the marketing of this assay, it will be interesting to see how it does commercially.
One intriguing aspect of this study is the fact that these biomarkers either involve growth factors or assays that measure inflammation, which highlights the accumulating evidence that inflammation plays a critical role in the development of depression.
References
Bilello JA et al. MDDScore: Confirmation of a blood test to aid in the diagnosis of major depressive disorder. J Clin Psychiatry 2015 Feb; 76:e199. (http://dx.doi.org/10.4088/JCP.14m09029)
Rothschild AJ.A blood test for depression? J Clin Psychiatry 2015 Feb; 76:e218. (http://dx.doi.org/10.4088/JCP.14com09515)
Rush AJ.Medical test development and implementation: A multistep journey. J Clin Psychiatry 2015Feb; 76:e220. (http://dx.doi.org/10.4088/JCP.14com09561)